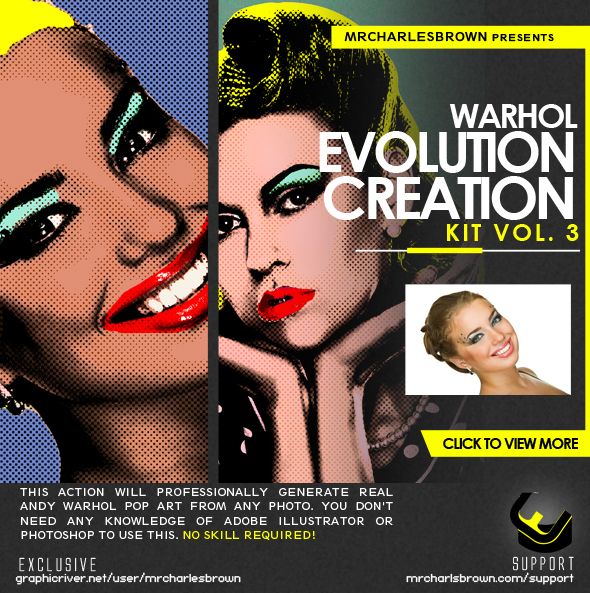 Click LINK to download file.
Professionally generate real Andy Warhol pop art from any photo. You don't need any knowledge of Adobe Illustrator or Photoshop to use this. This will save you days if not weeks when tasked with creating well defined popular pop art from your photo, object or artwork.
EXTENDED FEATURES:       
Full customization action set
High quality final render  
Easy makeup visibility
Warhol signature 4 pop shot generator
Warhol signature shadow control
Several effect settings to choose from
Depth and details intensity control 
Highlight control   
Shadow and midtones Control  
Halftone control
Dots background generator
And much More.
AUTHOR INFO 
Package: Warhol Evolution Creation Kit v3 
Software: Adobe Photoshop CS5 and above 
Released Date: Jan. 18, 2019 
Author: Charles Brown 
Item(s): ATN file 
Complexity: No skill is required – just 1 CLICK away. 
- Comprehensively tested with many photos 
- Works with different skin colours 
- Easy to use 
- Renders professional result 
- Stands out among other similar tools 
- Several techniques were combined to make this possible 
- Incorporates MRCHARLESBROWN's unique render methods 
We are determined to give you nothing but the best! Go for the best!