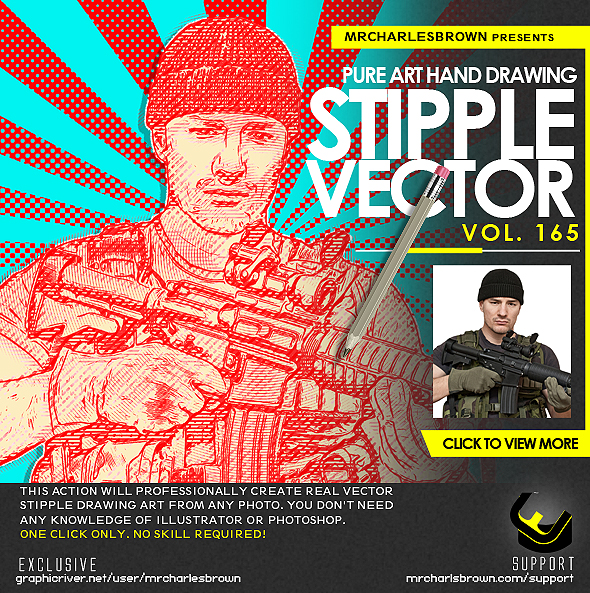 Click LINK to download file.
Professionally create real vector stipple drawing from any photo. You don't need any knowledge OF Illustrator or Photoshop. This will save you days if not weeks when tasked with creating well defined path and vector art from your photo, object or artwork.
EXTENDED FEATURES:     
High quality final render 
Real vector generator for Adobe Illustrator 
Also works on over 4000 pixels image size 
Multiple Outlines to choose trom    
Multiple stipple lines to choose trom 
Multiple sunbursts to choose trom 
Includes option to add background text 
Easy colour change    
And Much More...
AUTHOR INFO 
Package: Pure Art Hand Drawing 165 – Stipple Vector 
Software: Adobe Photoshop CS5 and above 
Released Date: July 23, 2019 
Author: Charles Brown 
Item(s): ATN and PAT file 
Complexity: No skill is required – just 1 CLICK away. 
- Easy to use 
- Renders professional result 
- Stands out among other similar tools 
- Several techniques were combined to make this possible 
- Incorporates MRCHARLESBROWN's unique render method 
We are determined to give you nothing but the best! Go for the best!