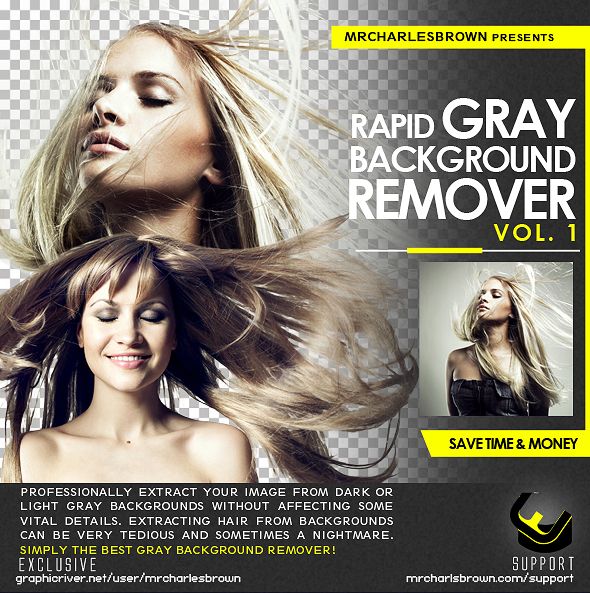 Click LINK to download file.
Professionally extract your image from dark or light gray backgrounds without affecting some vital details. Extracting hair from background can be very tedious and sometimes a nightmare. This action will properly examine your photo and will smoothly extract your subject from its background. In addition, gray backgrounds are very complex due to its different shades of gray and vignette. This action will get it done!
EXTENDED FEATURES:      
Full customization sub-action set.
High quality final render.
Several extracted image layers to choose from ensuring that the background is properly removed.
Charles Brown's unique NON-DESTRUCTIVE rendering process from beginning to finish.
Charles Brown's unique system of adding SUB-ACTIONS that come in handy when adjusting the values and features of this action—that means you won't have to worry about how to modify the end result to suit your need, thereby saving you tons of time to finalize your project. 
Digital lab tested to ensure that action delivers quality end result. 
High standard and advance auto-photo-manipulation ensuring that it is fully editable. 
Properly named, grouped and arranged to ensure easy adjustment even from the Adobe's filter source point. 
This product was properly studied and created with you in mind.
AUTHOR INFO:      
Package: Rapid Gray Background Remover 
Software: Adobe Photoshop CS5 and above 
Released Date: Jan. 26, 2019 
Author: Charles Brown 
Item(s): ATN file 
Complexity: No skill is required 
- End result is very subtle at the edge 
- Place your extracted image on any background 
- Easy to use 
- Smoothly extracts your image 
- Stands out among other similar tools 
- Several techniques were combined to make this possible 
- Incorporates MRCHARLESBROWN's unique render methods 
We are determined to give you nothing but the best! Go for the best!